marieagnesbruxelles
Modérateur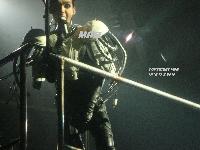 Hors ligne



Inscrit le: 08 Fév 2008
Messages: 2 666


Localisation: bruxelles
Posté le: Lun 19 Mai 2008 - 23:30

 

   Sujet du message: TOKIO HOTEL DANS LE TORONTO SUN 19 MAI

---

TOKIO HOTEL DANS LE TORONTO SUN 19 MAI 2008



Hotel checks in



By JASON MACNEIL



German rock band Tokio Hotel can sell out arenas in their own back yard, but they're trying to get a foot in the door on this side of the pond.
Having all the rock star looks of lead singer Bill Kaulitz won't hurt either, even if a few of the songs during their hour-long set Friday night at Sound Academy sounded uber-average at best.
With a horde of tightly packed female teens filling up about a third of the venue's floor, Tokio Hotel played most of the songs from Scream, its debut English album featuring songs culled and translated from two previous German albums. Just think of them as doing their duty in tearing down global language barrier walls.
It's an ambitious idea that seemed to get off on the right foot as the curtain parted for Ready, Set, Go! Kaulitz, with his rather large, shocking hairstyle, tight-fitting attire and somewhat androgynous appearance, looks like Bjork if she ever survived electrocution.
Yet it's a mug probably plastering the bedroom walls or computer screens of most fans in attendance.

Still a bit hesitant at times speaking English and keeping the between-song banter to a minimum, Kaulitz took a bullhorn siren out for the title track which evoked, you guessed it, loud screams. The rather radio-friendly tune ended with a strong finish by drummer Gustav Schafer as bassist Georg Listing and guitarist (and twin brother) Tom Kaulitz paced the stage.
Having cancelled the Toronto show earlier this year due to Bill Kaulitz undergoing surgery on his vocal chords, Tokio Hotel rolled through much of the songs from Scream as fans held up digital cameras and homemade signs. Two raggedy dolls were also held up resembling the Kaulitz brothers -- right down to the baseball cap and Rastafarian hairdo Tom sports.
But while the audience thought the band could do no wrong, the quartet sounded far more relaxed and tighter during the edgier Totgeliebt, the first number performed in German, which some of the audience knew.
Glad-handing those in the front and later tossing water on them to keep them refreshed, Kaulitz and company slowed things down with Monsoon, a lighter poppy-sounding number that seems to have the vocalist channeling the Smashing Pumpkins' Billy Corgan's softer, earnest delivery.
After asking everyone to "make some noise" not once, not twice but three consecutive times, Kaulitz let his brother Tom steer the band through the heavier, guitar-fuelled Break Away and the moodier Black, which again slowed the pace down.
With a lone German flag waving, Tokio Hotel started wrapping things up only 10 songs in with the punk-ish Wo Sind Eure Hande (Raise Your Hands Together) that had the singer grinning throughout while the slow-building By Your Side closed the main set. The set length probably irked a few fans and some parents who expected a bit more bang for their buck.
Returning to the stage with three stools for the obligatory "unplugged" moment, Tokio Hotel ran through Rescue Me before diving into Durch Den Monsun, the German version of Monsoon which they played earlier. The German version came off about the same as the English version with Kaulitz encouraging the crowd to sing in his mother tongue.
Fortunately a second encore featuring a Latin version of Monsoon never came to pass.
---
TOKIO HOTEL
SOUND ACADEMY
FRIDAY NIGHT


(traduc à suivre)


_________________
" KEEP COOL EN TOT ZIEN"




rabi43
Modérateur





Hors ligne



Inscrit le: 18 Avr 2008
Messages: 1 133


Localisation: lectoure
Posté le: Mar 20 Mai 2008 - 13:57

 

   Sujet du message: TOKIO HOTEL DANS LE TORONTO SUN 19 MAI

---

Merci MA, super l'article, jolie photo aussi, (j'ai acheté la même marguerite à Laurie......)
_________________
TOKIO HOTEL FÜR IMMER !!!!!!!!!