marieagnesbruxelles
Modérateur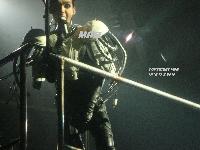 Hors ligne



Inscrit le: 08 Fév 2008
Messages: 2 666


Localisation: bruxelles
Posté le: Jeu 10 Avr 2008 - 14:45

 

   Sujet du message: BILL TOO BEAUTIFUL !!!! ok... BUT FIRST A GREAT STAR

---

Hallo BIll,

Yesterday I read the article in Blender... WHAT A JOKE   !!!

Don't be worry Bill you are beatiful Ok.. it's fun.. but FIRST YOU ARE A GREAT STAR
I saw the chart on MTV and Tokio Hotel has a good place!! Http://www.mtv.com.music/artists/most_popular.jhtml

Don't listen to people who tell bad news about you!!! And first make music for you and for us it's the most imortant thing you must do but
i know that you know that
Make music in German, or English in what you want but just make always MUSIC...
music is for ever the first thing an universal language !!

Don't forget YOU ARE A BIG STAR, AN ARTIST, AND NOBODY CAN CHANGE THAT !

TOKIO HOTEL FOR EVER


 


Marie-Agnès
_________________
" KEEP COOL EN TOT ZIEN"